providing analysis, tools, and data to help cornbelt farmers make better decisions
As online learning became increasingly popular, we started hosting webinars and posting videos on YouTube. This video content is another vehicle to expand the use of farmdoc material.
In response to the social media revolution, we started another site called Farm Policy News. We began pushing content through social media platforms with the goal of expanding the use of our site content.
The blogging revolution was in full swing. We decided to launch a new website called farmdoc daily. To stay relevant in the 24/7 information cycle, we publish one article of original analysis each day.
We learned that newsletters and other publications were getting more views than tools or data, so we reorganized the site. To secure ongoing funding, we adopted a public radio/TV sponsorship model.
Our "web-first" Extension delivery model was born, and we formed a team of faculty who agreed to place all of their Extension materials on the website and brand everything under the farmdoc umbrella.
Our first website was a page with links to existing webpages for farm financial analysis spreadsheets, crop insurance tools, and evaluation of market advisory services
(AgMAS).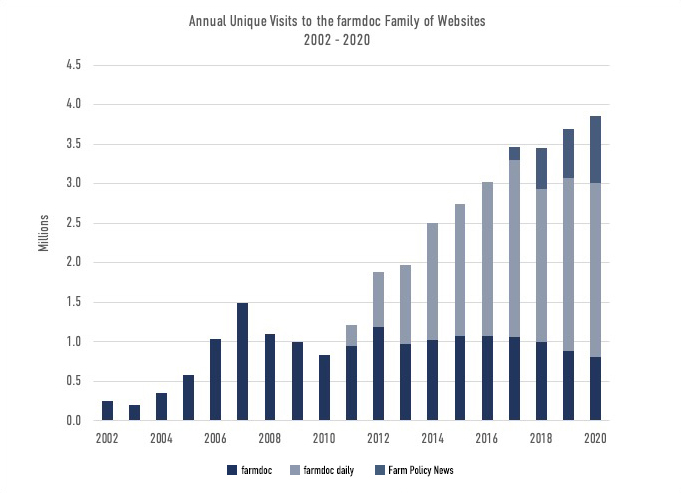 Visits to the original farmdoc site increased rapidly through 2007, peaked at 1.5 million, declined for a few years, and then stabilized around 1 million per year.
The addition of the farmdoc daily site in 2011 ushered in a period of explosive growth in total project visits, with more than 3 million in each of the last three years.
Visits to farmdoc sites occur regularly from every state in the U.S., but are most concentrated in the corn belt states that account for about half of the U.S. visits.
The footprint of the project is now global, with almost 20 percent of visits occurring outside of the U.S. and from nearly every country in the world.
An annual total of 3 million visits implies an average of 8,200 visits made to the three project websites each day through the year.
Mission: To provide U.S. Corn Belt crop and livestock producers with constant access to integrated information and expertise to better manage their farm businesses
Mission: Publish one article of research-based analysis each business day
Mission: Publish updates on current developments in the farm economy and U.S. farm policy
Distinguished Group Extension Program Award, Agricultural and Applied Economics Association (formerly American Agricultural Economics Association): 2002, 2014, 2016, 2021
Team Award, College of Agricultural, Consumer, and Environmental Science, University of Illinois at Urbana-Champaign: 2004, 2010, 2013
Donald A. Holt Achievement Award, Illinois Council on Food and Agricultural Research: 2008
Selected as one of two organizations nationwide to develop policy decision tools for implementing the 2014 farm bill
Team members regularly consulted by government officials regarding a wide variety of policies in agricultural trade, price supports, and biofuels